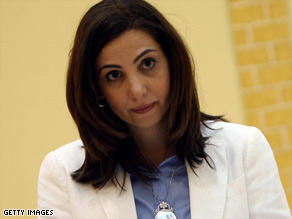 Rola Dashti is one of four women who won parliamentary seats in the recent elections in Kuwait.
(CNN) -- Kuwait elected its first female lawmakers in the conservative Gulf state where men have dominated parliament for nearly five decades. Four women won parliamentary seats in the general elections Saturday, the official Kuwait News Agency said.
Women were first granted the right to vote and run four years ago, but they failed to make inroads in the country's parliament in the past two elections.

Preliminary results released Sunday show that university instructor Aseel al-Awadhi and economist Rola Dashti were among four women who won seats.
The U.S.-educated Al-Awadhi has a doctorate and has been a member of Amnesty International, Kuwait News Agency said.

Dashti has worked as a consultant for several companies and chairs the Kuwait Economists Society, according to the news agency.

Two hundred and ten candidates ran for 50 seats in the general election, and 16 of the candidates were women.

The elections were called after the emir, Sheikh Sabah al-Ahmad al-Sabah, dissolved parliament, which is made up mostly of opposition politicians.

The parliament had been locked in a feud with the government, which it accuses of corruption and abuse of power. It has been pressuring the government for the right to question ministers on deals.

The parliament is made up of elected lawmakers, but ministers are appointed.

The emir said he was dissolving parliament to put an end to a crisis that had paralyzed decision-making.

The al-Sabah family has run Kuwait since it came into existence more than two centuries ago.
free programes

Read more!